DISCOVER OUR UNIQUE GIRLS
One thing is for sure, you won't be able to find anywhere else quality escort services like the ones in aphrodita.gr, and we're sure about this!
Our girls are trained and experienced in the arts of love, with unique characteristics and a huge desire of making everything they can to give you the best time of your life.
Wait no longer, browse through our girls, find the one that makes you the most excited and give us a call. The rest is up to us and, of course, our lovely girls. Expect the most beautiful experience in your entire life, only in Athens and Thessaloniki.

IN THE HEAT OF LOVEMAKING
"You see her and your senses are overwhelmed by the need to feel her. Your breath gets heavier as she gets closer and closer. The moment you touch her, makes your body electrified. She's there for you now, she's yours... Her lips are touching yours while her smell blurs your mind. She's soft, fragile, but she doesn't care is she gets broken for you. Just you, that's all there is in her mind. She wants your taste, she needs it, she needs you... Clothes feel heavy now, your hearts are pumped up. You take off her shirt and she moans. Her breasts are touching you now, and it feels great. For both of you... You take her to the bed. She takes of her shoes while teasing you with her long beautiful legs. She's removing her skirt too. She wants you there, and she's calling you. Something great is about to happen..." An escort girl can make you experience any desire you might have. Contact us, or give us a call and you can be the protagonist in this story...
TOP SERVICES FROM OUR GIRLS
SEX IN EVERY POSITION AND EVERY PLACE
As we said already, our girls will do anything to please you. They don't mind if you're a fan of some of the "extreme sports" in sex, they love to do the extreme. Our girls can perform in every position and we're sure you'll be surprised to find that they're extremely good at it, and even make you do things you never even imagined! Just ask them what you want, and you'll be glad you did...
FREE ORAL
Our girls main desire is to make their lovers get the most beautiful experiences. The would love to taste you in their mouths, make you as hard as possible before the main "event" starts. Feel free to ask them about sucking you but they also might do it on their own will...
FREE ANAL
That feeling of getting inside the tight hole in the back... Our girls know how much men love this. They'll let you do anything. They love anal sex as much as you do. Just tell them what you want and get ready to get the most exciting experience in sex...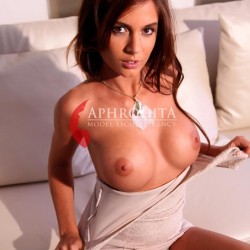 Lolita is 21 years old and comes for the lovely Ukraine. She has brown eyes, brown hair and the body of Goddess. One of the most beautiful escort girls you'll ever find, with the greatest pair of breasts you've ever seen! She speaks fluent English and Greek and she can't wait to get to work!
Check out Lolita's profile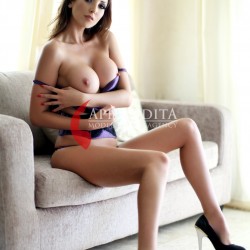 Marina is 24 and she's coming for cold Russia. Her body will make your jaw drop, but that's just nothing compared to the things she's can do... Her deep blue eyes will get you dizzy and her great analogies will make your heart skip a beat! She speaks English and Greek.
Check out Marina's Profile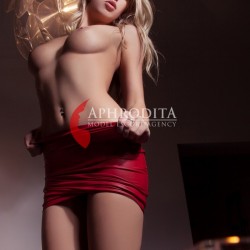 Romela is a blond angel that comes from the beautiful Romania. She's 23 years old, with a perfect body, brown eyes and golden hair. She came to Greece for work because she wants to do what she loves the most in the land of sunshine. She speaks great English and Greek and she's excited to meet you!
Check out Romela's profile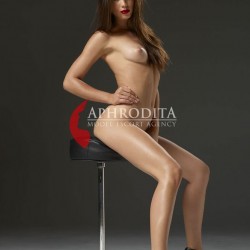 Nansi comes from Russia too. She's 20 and she's gorgeous! Her thin body will make you lose your mind and her beautiful face will make you lose your words. She is one of our TOP escort girls and we're sure you'll find out why! Beautiful brown eyes and brown hair, she's right here for you waiting to get to know you! She speaks English and Greek.
Check out Nansi's profile